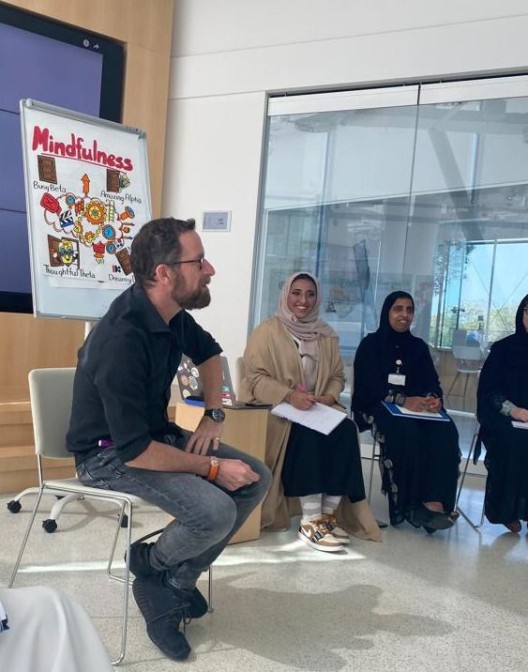 NEP Alumni learn about design thinking for innovation from Duncan Wardle in the Knowledge Seminar Series
NEP Limelight
12 Dec 2022
Our NEP Alumni and current cohort have been busy! Check out what they've been up to below.
December 2, 2021
NEP 2.0 Alumnus Khalifa Al Qama, Director of Dubai Future Labs, is profiled in 50U, a book that celebrates 50 years of the UAE through 50 portraits of people, plants, and places. Listed as "The Tech Leader", Khalifa discusses how technology creates new opportunities to support a flourishing society.
September 19, 2022
NEP 2.0 Fellow Omar Al Braiki is named an Emerging Climate Leadership Fellow at Yale University, USA: "I am pleased to be selected to participate in the first edition of the Climate Leaders Fellowship Program, and to contribute to strengthening the UAE's leadership role in the climate arena. I look forward to working diligently with my new colleagues to develop solutions to global climate change."
October 5, 2022
NEP 1.0 Fellow Mariam AlMeraikhi moderates Duncan Wardle's Knowledge Seminar Series session on "Embedding a Culture of Innovation into Everyone's DNA." The activity-filled session for NEP Alumni "makes creativity tangible, innovation easy, and the process enjoyable."
November 2022
NEP 1.0 Fellow Abdulla Al Remeithi secured 1 million AED in funding from Environment Agency – Abu Dhabi and Abu Dhabi Department of Energy for his project tracking UAE residents' environmental footprint, "UAE Environmental Identity."
November 9, 2022
November 14, 2022
November 24, 2022
NEP 1.0 Alumnus Mohamed Al Sharhan moderates a lecture with University College London economist Mariana Mazzucato at Mohamed bin Zayed Majlis for Future Generations. Fourteen NEP Alumni and participants attended the talk, titled "Directing Economic Growth: A Moonshot Approach."

NEP 1.0 Fellow Aisha Harib, and alumni Shaikha AlKhayyat and Salwa Fadhel
NEP 2.0 Fellow Nouf Al Hamly and alumni Kalthoom Ali, Taif Al Amiri, Hajer Madhi, and Moammar Al Marzooqi
NEP 3.0 participants Fatima Al-Ali, Waheeda Alhadhrami, Abdulla Alhaidan, Saood Al Noori, Hamad Al Shehhi, and Dr. Abdulla Al Shimmari
December 5, 2022
NEP 3.0 participant Abdulla Alshehhi participated in the Abu Dhabi Space Debate, a platform for global leaders to discuss the important challenges defining the future of space.