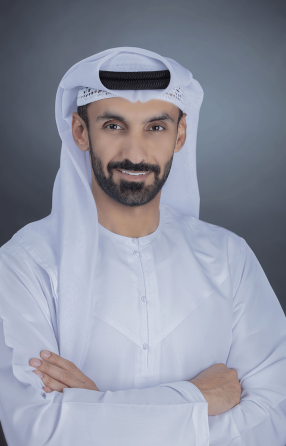 Abdulla Al Remeithi
Environment
Director - Environment Policy, Regulation and Climate Change, Environment Agency - Abu Dhabi
A strategic thinker, prolific writer, and pragmatic leader, Abdulla Al Remeithi is dedicated to driving transformation in the UAE's environmental sector. For more than 15 years, he has applied his skills in policymaking, planning, and stakeholder engagement to transition the UAE to a more sustainable economy and move toward a net-zero future.
In his roles with the Environment Agency – Abu Dhabi (EAD), as the UAE Liaison for the COP28 Presidency at the United Nations Framework Convention on Climate Change (UNFCCC), and as a sustainability ambassador for the UAE's Year of Sustainability team, Al Remeithi is focused on developing actionable steps and practical tools for achieving national goals in sustainability. For example, he is working with different parties in the UNFCCC to build greater coordination and cooperation in advance of COP28 to accelerate progress toward Paris Agreement goals. Separately, he is leading the creation of the "UAE Environment Identity," a soon-to-be- launched website and mobile app that will calculate the carbon footprint of every person in the UAE and offer incentives (e.g., airline points) for reducing carbon emissions. Importantly, the system will capture key performance indicators that will inform new environmental policies and serve as a model for countries worldwide. It will also promote behavior change in the UAE, educating and motivating members of the public to take small steps toward living more sustainably.
Al Remeithi is an active member in several national initiatives, including the Sustainability Experts Network to promote collective action and support the UAE Year of Sustainability team in inspiring sustainable acts, the Council for Climate Action – Goal 13 of the Sustainable Development Goals, and the Abu Dhabi Climate Change Taskforce. The UAE has appointed Al Remeithi as its first-ever Sustainability Ambassador as part of its commitment to climate action during the Year of Sustainability. This aligns with Dubai's hosting of Cop28 in November 2023. He and his team will collaborate closely with the UAE Year of Sustainability team, offering research, fact-checking, knowledge sharing, and awareness-raising support to promote sustainable behavior change in the country.
Al Remeithi envisions a future in which the UAE serves as a global model for environmental sustainability. To support that vision, he aspires to reach a leadership role in the UAE, so that he can engage all citizens and leaders—across business, government, and society— to participate in interventions for climate change. He also wants to increase cross-sector collaboration on environmental goals to ensure sustainability is embedded into the strategy of all public and private entities in the UAE.
Al Remeithi holds a Bachelor of Science in Environmental Engineering from Liverpool John Moores University and a Master of Science in Project Management from the British University in Dubai. In addition to the National Experts Program, Al Remeithi completed the Executive Development Program at Wharton University. In his free time, he enjoys running, cycling, reading, and skydiving.