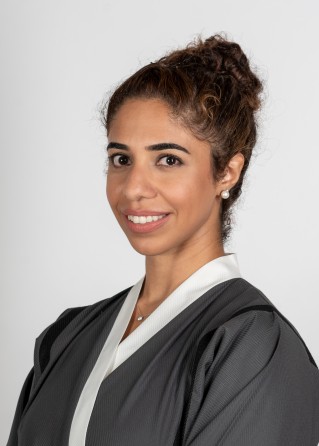 Nouf Al Hamly
Advanced Sciences and Research
Science Advisor to Assistant Minister of Foreign Affairs for Advanced Science and Technology, Ministry of Foreign Affairs
Nouf Al Hamly is a highly respected researcher, geneticist, and academic leader who specializes in research translation, outreach, and communication. Intellectually curious and professionally courageous, she has taken bold steps to transform the UAE's science and technology sector and create professional opportunities for the next generation of Emiratis.
After working in the health sector and academia for 16 years combined, Al Hamly was recruited in early 2023 to serve as the Science Advisor to the Assistant Minister of Foreign Affairs for Science and Technology. In this role, she is helping create advanced science and technology diplomacy strategies for the UAE while ensuring its national policies align with its foreign policies. This includes building the infrastructure and mechanisms to advance science projects, developing science literacy and science communication, and exploring ways to elevate the UAE's global position in science and technology.
In keeping with the UAE Centennial 2071 plan, Al Hamly wants to help build a knowledge-based economy in the UAE by fostering partnerships between government, academia, and the private sector. Developing an ecosystem for research, she notes, is key to helping the UAE diversify its economy, move away from hydrocarbon production, and accelerate advancements in the space sector. She envisions a future in which the UAE is a global leader in science and technology that offers diverse career opportunities for freshly minted college graduates in this discipline.
Prior to her current role, Al Hamly worked for NYU Abu Dhabi, first as a Manager of Research Outreach and Communication and then as Assistant Director of Research Public Outreach and Research Assistantship Program. One of her greatest achievements was launching Kawader, a research assistantship and postdoctoral program designed to increase national capacity in research. The first program of its kind, Kawader pairs individuals who have completed a bachelor's, master's, or PhD degree with faculty or researchers in their area of study. For three years, participants immerse themselves in research while preparing for a career in academia or the private sector. While managing Kawader, Al Hamly became interested in learning how research informs policy, which eventually led her to her current role.
Al Hamly completed a BsC in Genetics from the University of Sheffield and earned an MsC in Business Psychology and Coaching from Heriot-Watt University.