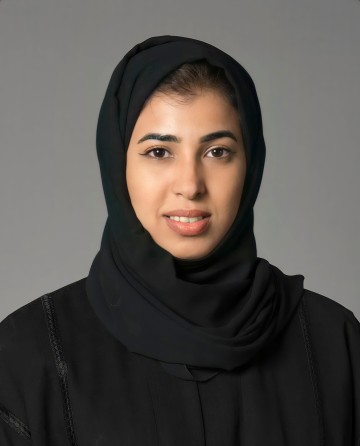 Aisha Saeed Harib
Foreign Aid & Philanthropy
R&D Center Head, Digital Social Innovation Researcher, Dubai Police
Captain Aisha Saeed Harib is a researcher in the field of future innovation and emerging technologies, philanthropist, and social entrepreneur who has devoted her career to giving back to the UAE. She is a national expert in the niche sector of public innovation and, through her day job and PhD studies, is invested in developing radical solutions to pervasive social and environmental problems.
In 2022, Harib was recruited by the Dubai Police to establish an innovation center for enhancing public security. In this role, she is focused on developing an ecosystem for law enforcement innovation and public value that harness technology for greater efficiency and impact. These efforts are informed by her doctoral research, which is focused on the dynamics and best practices of digital social innovation.
Inspired by European models for public value, Harib wants to create and implement frameworks in the Arab region that support impactful investments. She cautions that, to achieve this vision, the UAE needs to develop more local experts like her who can help build a foundation that enables impactful innovation to flourish.
Harib began her career as a social entrepreneur and philanthropist, launching the social enterprise SocialBandage in 2012. SocialBandage was an online store for "responsible shopping," selling sustainable products in support of social or environmental campaigns, such as coral reef protections. In 2014, Harib joined the National Service as a volunteer for the UAE Armed Forces in Abu Dhabi. Following her military service, she was appointed Head of Corporate Social Responsibility at the Community Development Authority in Dubai, where she conducted analyses and developed strategies for Dubai Social Impact. In 2017, Harib became a founding member of the UAE CSR Fund council, operating under the Ministry of Economy, with the mission of devising impactful investment policies for the private sector. She was also actively involved in the Dubai Youth Council and the National Service Youth Council. On an international scale, Aisha joined the Academy of Management Network as an academic publisher in 2020.
A diligent academic, Harib holds a bachelor's degree in Visual Communication from Zayed University and a master's degree in Innovation Management from the Hamdan Bin Mohammed Smart University. She also possesses a second master's degree in Research and Data Analysis from the University of Reading, UK. Currently, she is pursuing her Doctorate in Emerging Innovations and Technologies at the Henley Business School, University of Reading, with an expected completion date of 2025. In 2017, she was honored with the UAE Pioneers Award from the Ministry of Cabinet Affairs, as well as the Social Innovation Award from the Women's Forum in France.