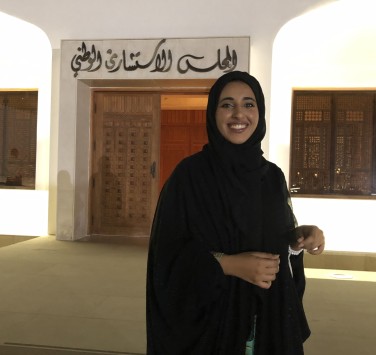 Mariam Almeraikhi
Media & Creative Industries
Co-founder and CEO, Astrocloud Studios
A tech-savvy media expert with a passion for the arts, Mariam Al Meraikhi empowers artists in the UAE and abroad to collaborate, find meaningful work, and identify opportunities for self-expression. Deeply empathetic and committed to human rights, she also uses her storytelling skills to amplify the voices of people of determination in the UAE.
Al Meraikhi is co-founder of Astrocloud Studios, a creative studio that supports artists, musicians, writers, and designers who want to turn their talents into a professional career but often need nontraditional environments (e.g., flexible or remote work) to thrive. The studio functions like a "creative matchmaker," connecting artists with businesses or government entities that want to hire them for creative projects. It also helps artists find other outlets for generating income, such as by using original artwork to create merchandise that can be sold on online marketplaces.
Al Meraikhi's vision for the UAE is to become a global leader in the media and creative industries and a country renowned for supporting self-expression. She believes that privatizing creative industries, rather than relying on public funds to maintain operations, is key to realizing this vision. Developing companies in this space will not only grow and diversity the UAE's economy, but it will give the country's residents more choice and flexibility in how they live and work, she notes. To that end, Al Meraikhi is trying to disrupt norms that may limit the potential of creative talent, such as traditional expectations for education or work.
In addition to running her business, Al Meraikhi has served as a consultant for the UAE Year of office since 2021. For the Year of Sustainability, she is advising on strategic initiatives such as a storytelling campaign that encourages members of the public to take responsibility for their own carbon footprint. She also works on her own creative projects, such as films that aim to address social issues. For instance, Al Meraikhi is currently working on a documentary focusing on the rights of people of determination and challenges they face in the modern workplace.
Al Meraikhi earned her Bachelor of Arts in Multimedia Design and Master of Arts in Tourism and Cultural Communications at Zayed University. She also earned a Postgraduate Diploma in UAE Diplomacy and International Relations from the Emirates Diplomatic Academy. She is a Certified Scrum Master and speaks eight languages.