H.E. Ohood Khalfan Al Roumi, Minister of State for Government Development and the Future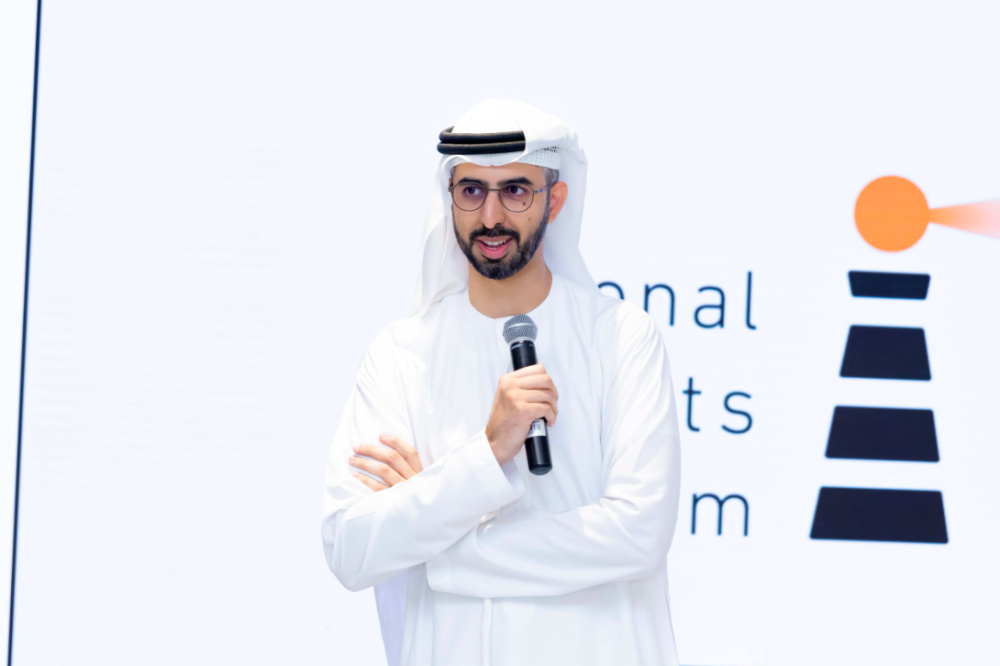 H.E. Omar bin Sultan Al Olama, Minister of State for Artificial Intelligence, Digital Economy, and Remote Work Applications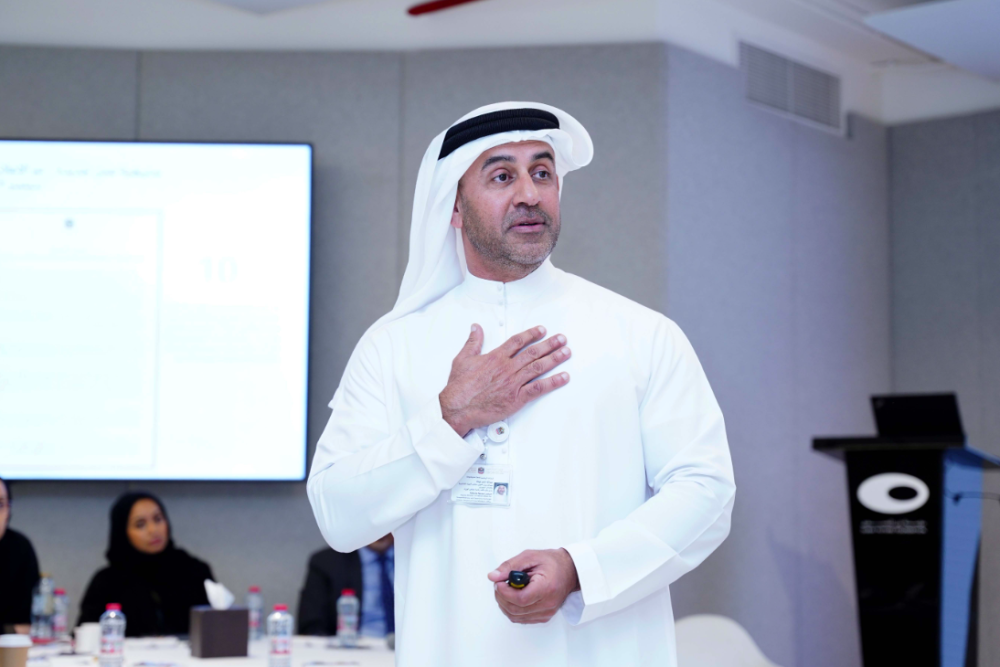 H.E. Abdulla Nasser Lootah, Deputy Minister of Cabinet Affairs for Competitiveness and Experience Exchange, Director General of the Prime Minister's Office at the Ministry of Cabinet Affairs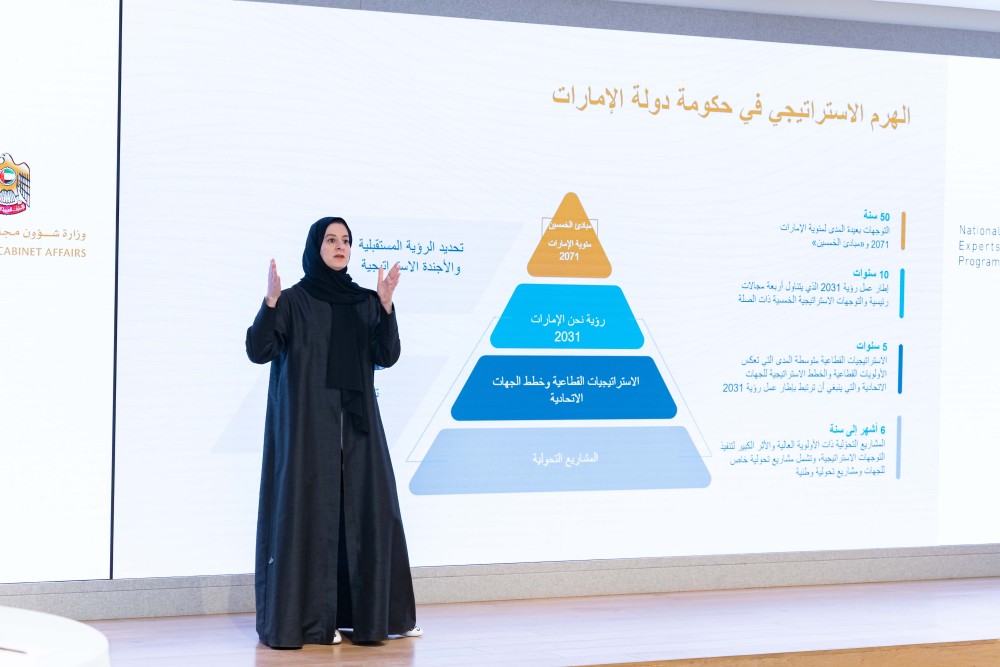 H.E. Huda AlHashimi, Deputy Minister of Cabinet Affairs for Strategic Affairs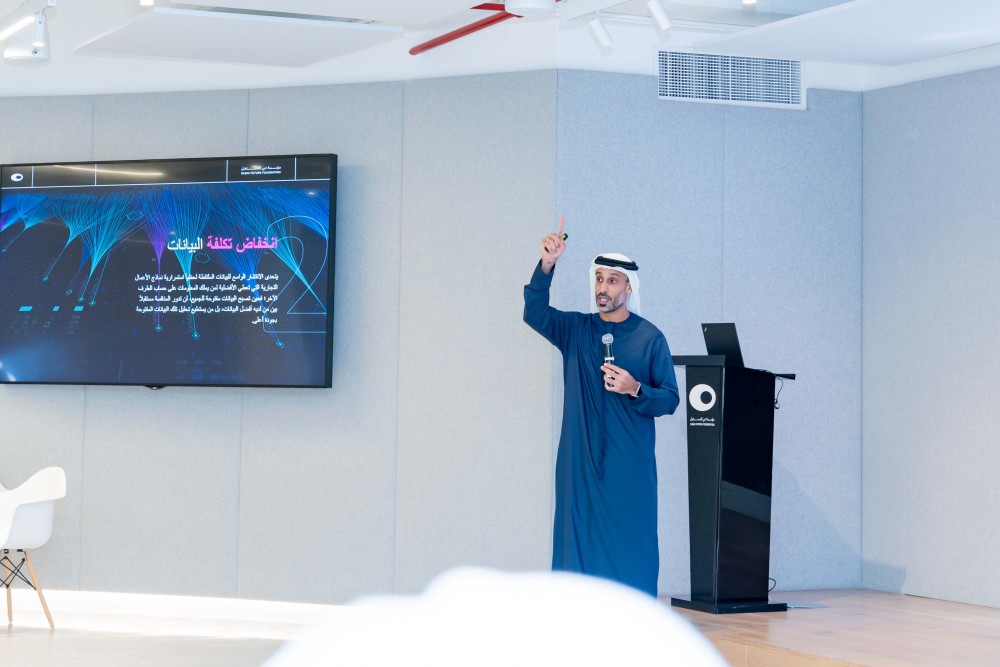 H.E. Khalfan Belhoul, CEO of Dubai Future Foundation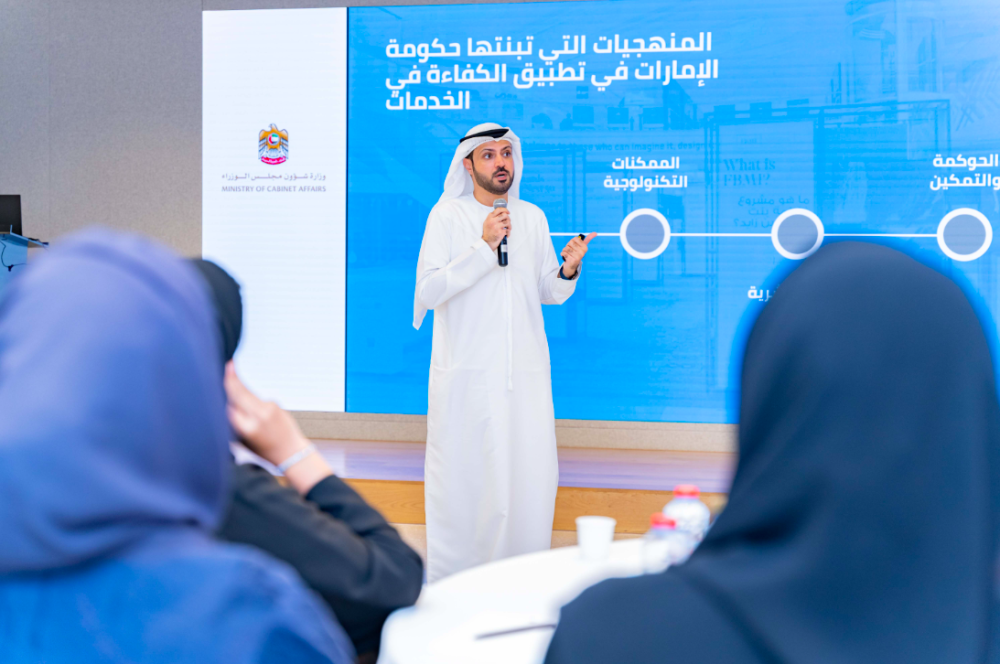 H.E. Mohamed Bin Taliah, Chief of Government Services of the United Arab Emirates Government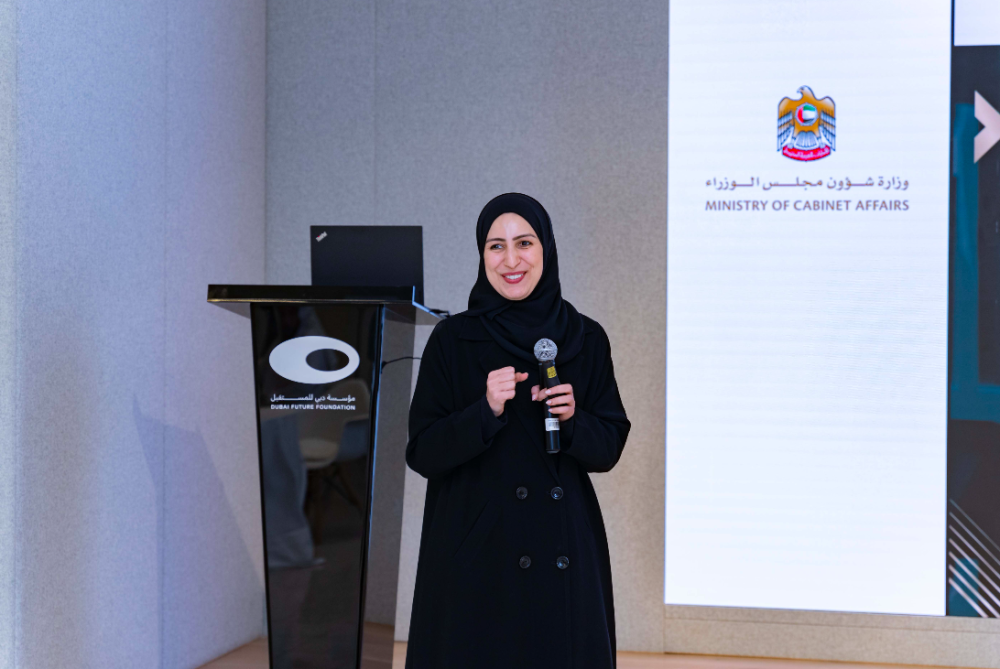 H.E. Hanan Ahli, Director of the Federal Competitiveness and Statistics Centre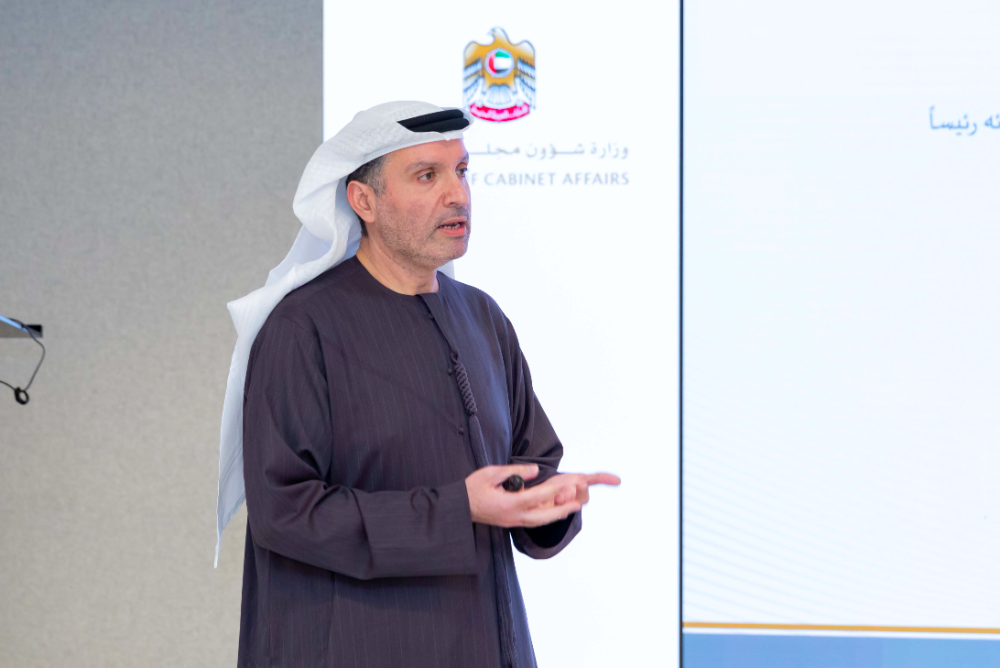 H.E. Khalid Al Harmoudi, Assistant General Secretary for Cabinet Affairs Support, General Secretariat of the UAE Cabinet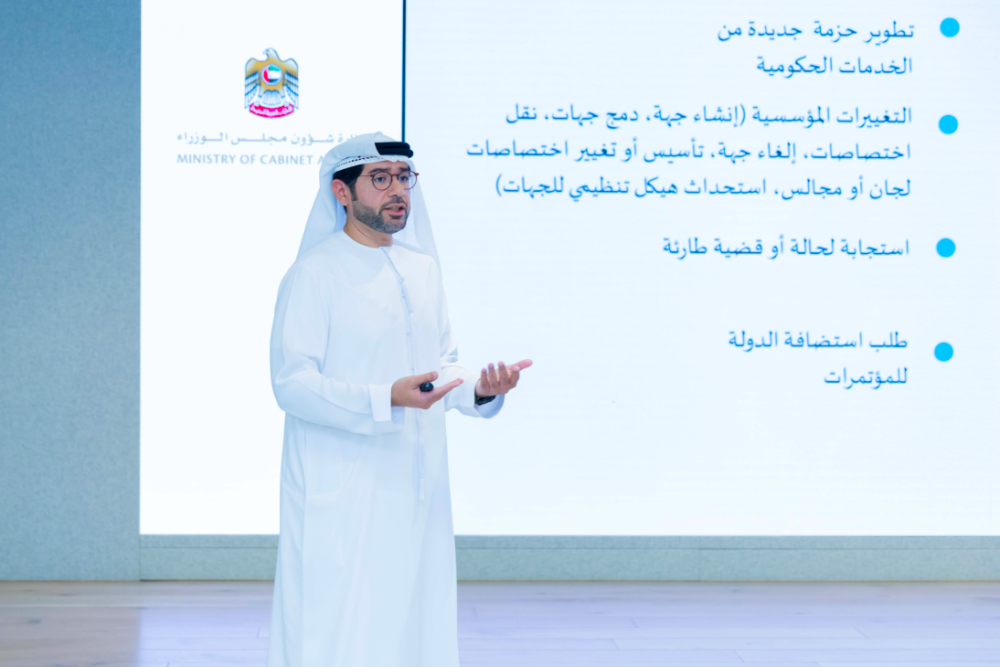 H.E. Haitham Al Rais, Executive Director of Government Policies, Ministry of Cabinet Affairs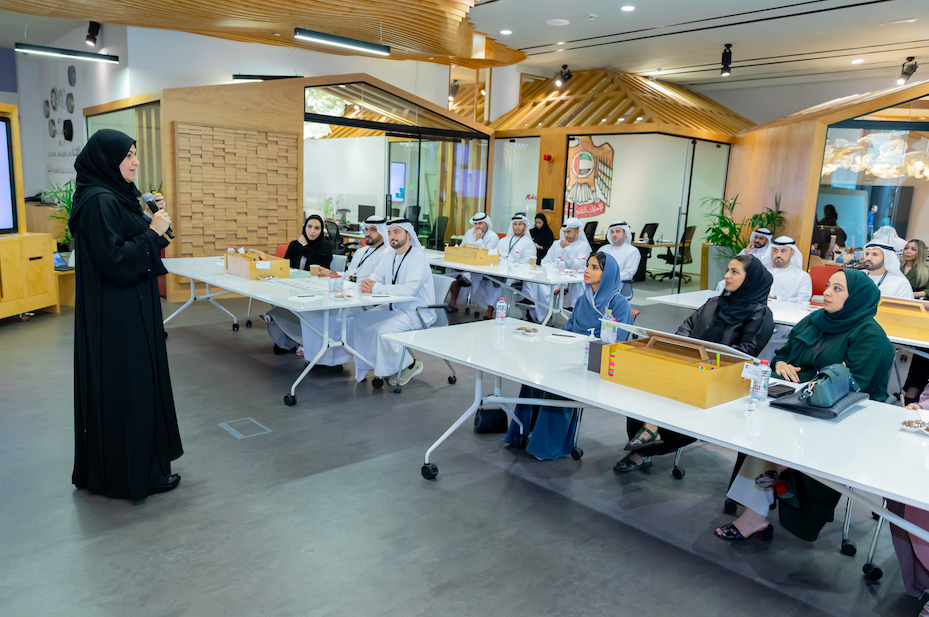 Dr. Radhiya Al Hashimi, Director of UAE Government Accelerators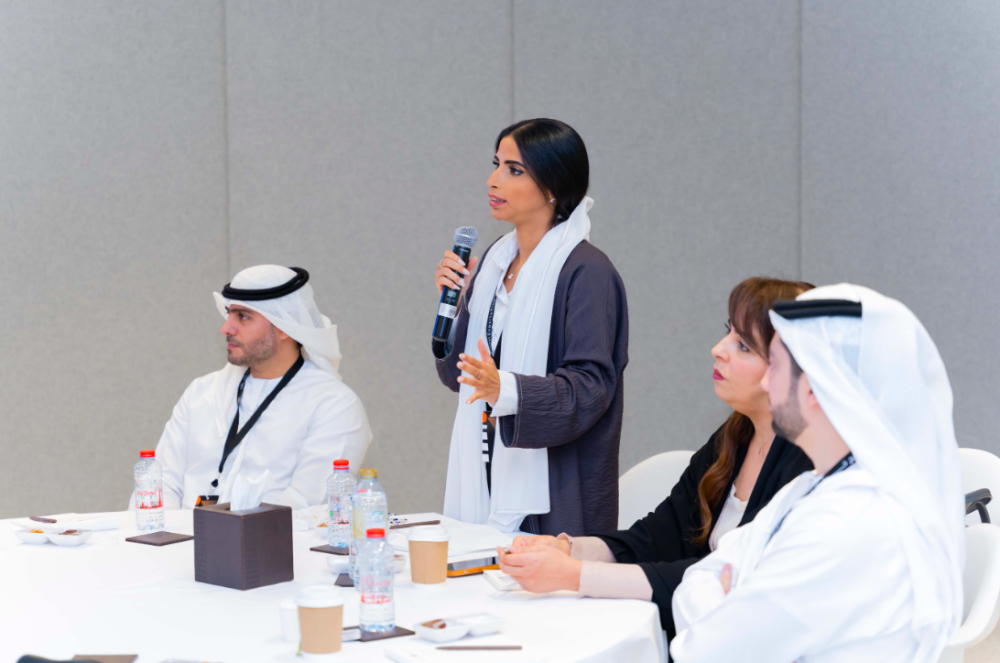 NEP 3.0 participant Eman Al Mughairy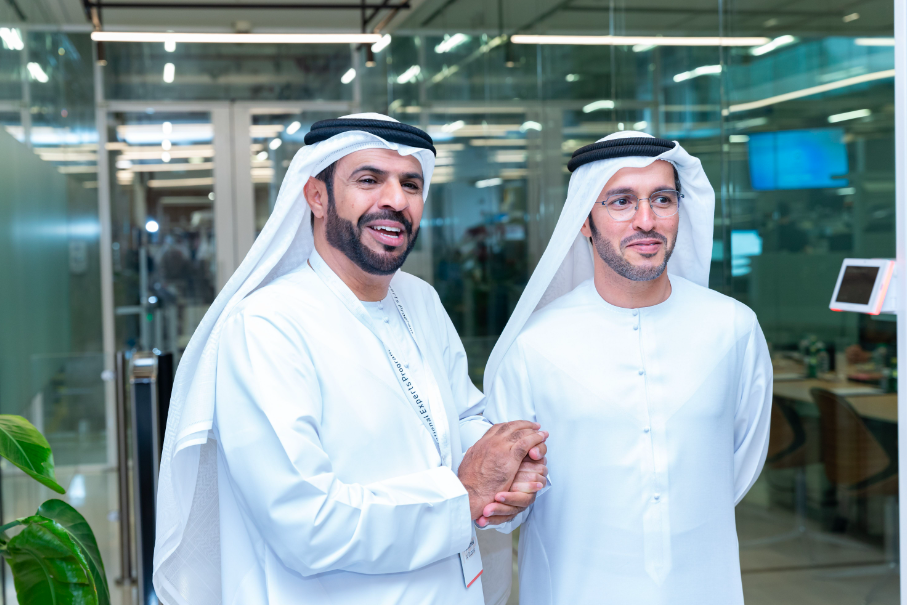 NEP Team member Mohamed Al Qubaisi with NEP 2.0 alumnus Khalifa Al Qama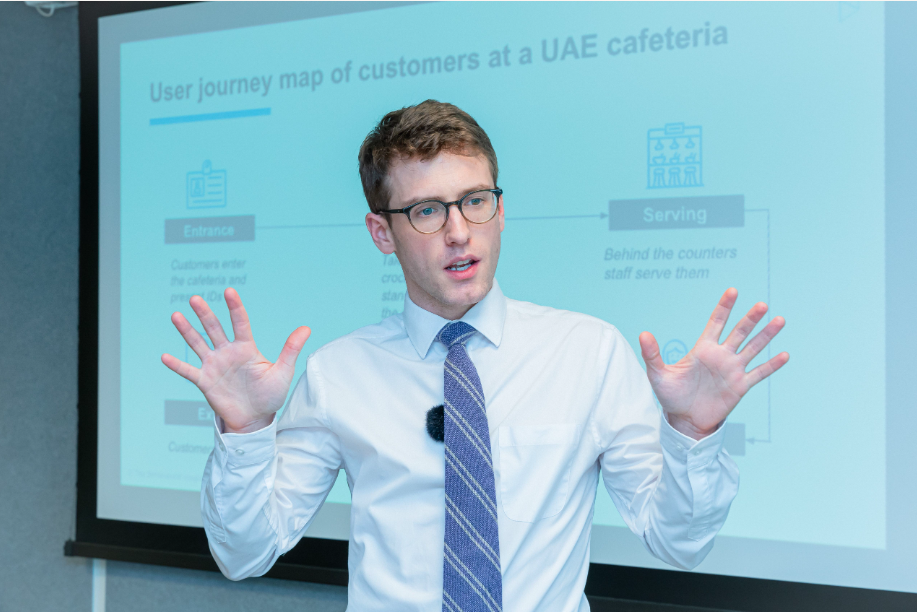 Module 3 faculty member Tim Ramsey of Behavioural Insights Team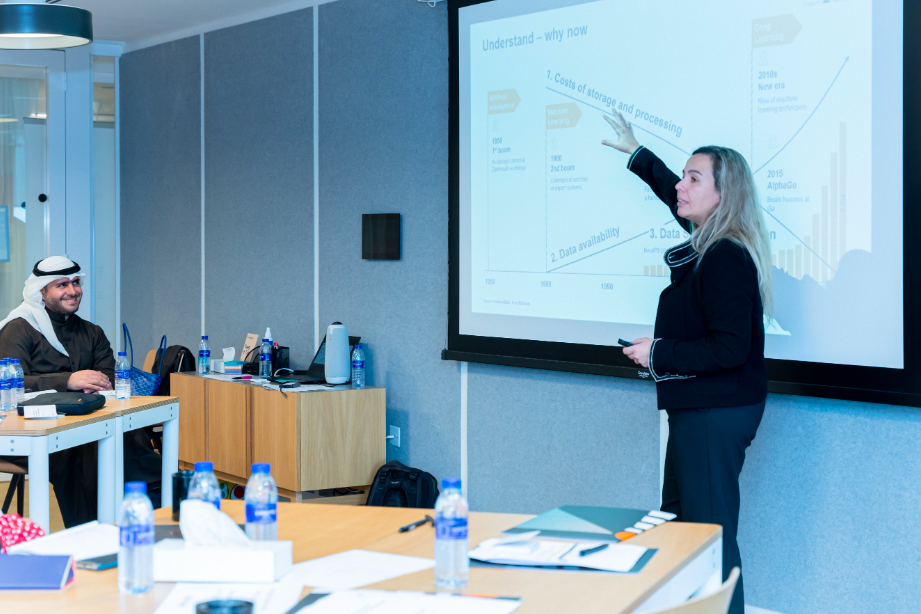 Module 3 faculty member Chiara Marcati of McKinsey & Company
NEP 3.0: Module 3 Highlights
20 Jan 2023
From January 9 through 12, Module 3 invited participants to shift their focus outward and develop a Worldly Mindset.
First, the UAE Government Vision Summit in Dubai brought the long-term direction of the nation into focus through a series of high-level talks organized by the Prime Minister's Office. Over two days, leaders in UAE government shared insights on key development strategies and legislative reforms, national competitiveness, economic innovations and future plans.
"The UAE Government Vision summit aligned us with leadership's aims and goals into the next decade and the UAE's plan for 2071." – Eman Al Mughairy, NEP 3.0 Culture participant
Distinguished speakers included:
H.E. Ohood Khalfan Al Roumi, Minister of State for Government Development and the Future
H.E. Omar bin Sultan Al Olama, Minister of State for Artificial Intelligence, Digital Economy, and Remote Work Applications
H.E. Abdulla Nasser Lootah, Deputy Minister of Cabinet Affairs for Competitiveness and Experience Exchange, Director General of the Prime Minister's Office at the Ministry of Cabinet Affairs
H.E. Huda AlHashimi, Deputy Minister of Cabinet Affairs for Strategic Affairs
H.E. Khalfan Belhoul, CEO of Dubai Future Foundation
H.E. Mohamed Bin Taliah, Chief of Government Services of the United Arab Emirates Government
H.E. Hanan Ahli, Director of the Federal Competitiveness and Statistics Centre
H.E. Khalid Al Harmoudi, Assistant General Secretary for Cabinet Affairs Support, General Secretariat of the UAE Cabinet
H.E. Haitham Al Rais, Executive Director of Government Policies, Ministry of Cabinet Affairs
Dr. Radhiya Al Hashimi, Director of UAE Government Accelerators
Following her session, H.E. Ohood Khalfan Al Roumi granted the latest NEP cohort access to Jahiz. Established to upskill UAE federal government employees, the online platform offers a personalized path to acquiring skills critical to the future of government work. Through Jahiz, the cohort can access virtual masterclasses and courses on digital skills, data, and AI, 10X, and the new economy.
While in Dubai, the cohort also visited three entities that each have a unique, visionary mission for the future.
At Dubai Future Labs, NEP 2.0 alumnus Khalifa Al Qama showcased the applied research lab's facilities and explained its mission to develop advanced robotics and AI solutions that ready the UAE for the future.
Visiting UAE Government Accelerators with director Dr. Radhiya Al Hashimi, the cohort learned how the initiative helps government entities achieve quick, sustainable, scalable results.
The inspiring two-day program in Dubai concluded at the Museum of the Future, where Executive Director Lāth Carlson shared the museum's history, development, and vision.
Continuing the theme of envisioning new possibilities, the final two days of Module 3 were the starting block for participants' AI reports. Following their thorough grounding in artificial intelligence with MBZUAI faculty during Module 2, the group began learning how AI may impact their individual sectors—and the world.
Understanding AI requires an understanding of the human behavior that informs it, explained Behavioural Insights Team faculty Tim Ramsey and Dr. Ines Barreiros. Their two workshops introduced the use of behavioral insights to conduct qualitative research and inform effective policy:
"I'd encourage you to think about how you can use DALL-E, chatbots, and other similar tools to generate vignettes that can help you get people's feedback on possible scenarios in real time."– Tim Ramsey, BIT
Chiara Marcati of McKinsey & Company introduced the different applications of AI for businesses, providing a framework for thinking about AI practically.
Finally, the cohort and several alumni were privileged to have a conversation with David Cameron, former Prime Minister of the United Kingdom. Touching on his own experience with behavioral insights and big data, the informal session drew on Mr. Cameron's expertise as a world leader to answer an array of questions from participants and alumni—read more on the blog.
Watch highlights from Module 3 on our NEP YouTube channel and see what it's like to be a National Expert!