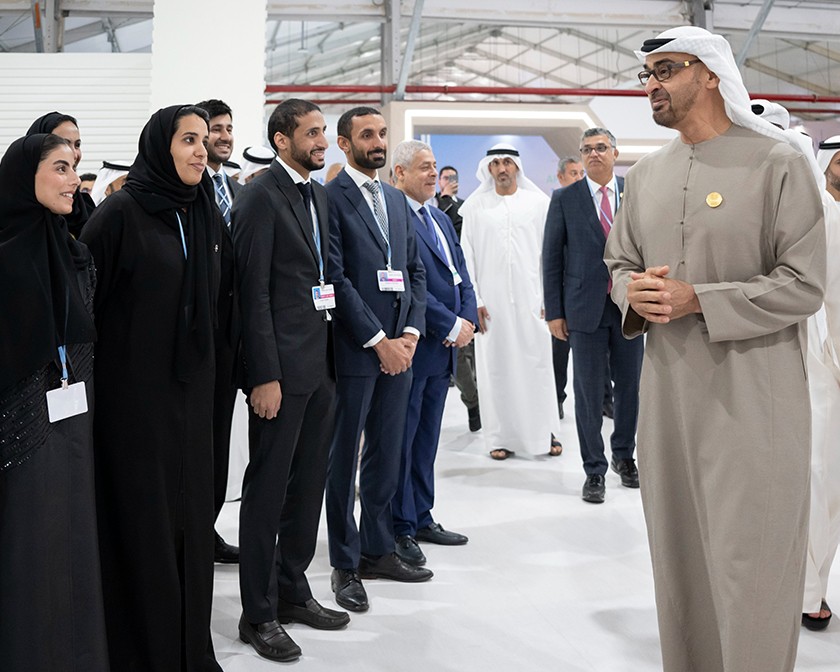 His Highness Mohamed bin Zayed Al Nahyan, President of the UAE, with members of the UAE delegation to COP27
In November 2022, six members of the NEP community took part in the 27th Conference of Parties (COP27) in Sharm El Sheikh, Egypt. COP27 is an annual United Nations conference that gathers delegates from the 197 countries party to a 1992 convention on addressing human impacts on the climate. This year's conference welcomed 35,000 delegates from government, academia, civil society, and industry for a 2-week discussion to jointly address climate change.
Among the UAE's delegation was NEP 3.0 participant Saood Al Noori, Head of Diplomatic Engagement at The Office of the UAE Special Envoy for Climate Change. As Head of the Diplomatic Engagement team and Lead Negotiator on Mitigation, Saood has unique insight into the practical essentials of climate action plans.
"As a global leader in major energy infrastructure projects, the UAE will identify and promote concrete, pragmatic solutions that accelerate the pace of the global energy transition. This includes pivoting towards clean, renewable sources, while at the same time decarbonizing existing sources and investing in innovation." - Saood Al Noori
NEP 2.0 Fellow Ali Al Shimmari, International Assets Manager – GCC at Abu Dhabi National Energy Company – TAQA, is helping to pave the way for decarbonized energy solutions with his work in green hydrogen investments.
"Green hydrogen has the potential to provide solutions within multiple markets across the electricity, transportation, and industrial sectors. COP28 will cement key technological and infrastructure elements so the UAE can scale up these initiatives." - Ali Al Shimmari
Ali also joined NEP 2.0 alumna Azza Al Raisi, Senior Specialist in Sustainability at ADNOC, in the conference's first youth debate as part of a team arguing in favor of alternative opportunities for energy security. Hosted by the UAE pavilion, the debate spotlighted youth as a critical constituency in efforts to limit climate change.
NEP 1.0 Fellow Abdulla Al Remeithi was Negotiation Advisor to the COP27 delegation and contributed his expertise as Director of Environment Policy, Regulation and Climate Change at Environment Agency - Abu Dhabi to several panel discussions. In the "Abu Dhabi's Sustainable Water Journey" panel, Abdulla highlighted innovative approaches to water management in the emirate. He also described Abu Dhabi's strategy to combat plastic pollution during a discussion of single-use plastics.
Maitha Al Hameli, current participant and Section Manager of Marine Assessment and Conservation at Environment Agency Abu Dhabi, attended as a negotiator focused on adaptation plans, especially those related to marine ecosystems. In a panel on nature-based solutions (NbS), she showcased the successes of the UAE's NbS project and emphasized the need for further private sector investment. A second panel called for accelerating partnerships to protecting blue carbon ecosystems, like the UAE's coastal mangroves, as an essential resource in climate change mitigation and ocean conservation.
COP27 was host to a landmark global agreement to fund developing nations as they work to reduce their carbon footprint and cope with the impacts of climate change. As the UAE will host COP28 in November 2023, it has joined other nations in establishing a transitional committee that will share recommendations on securing financial support for the Loss and Damage Fund.
Omar Al Braiki, NEP 2.0 Fellow and Head of Negotiations at the Office of the UAE Special Envoy for Climate Change led a team of negotiators representing the UAE on a wide range of topics, from loss and damage to climate finance, carbon markets, and mitigation measures. Omar is also working on the first Global Stocktake, an evaluation of the world's progress toward implementing the Paris Agreement and one of COP28's most significant deliverables.
Looking to next year, Saood believes COP28 will be an ideal platform to discuss the future of renewable energy. "The world needs to emphasize a just and realistic approach to energy transition, especially in the face of competing narratives on the actions required to limit the global temperature rise to 1.5° Celsius." Ali expects the UAE will continue identifying opportunities to cap emissions and meet conservation targets: "COP28 will be a Solutions COP."
In keeping with the UAE's commitment to inclusivity, Saood notes that COP28 will leave no voice out of the conversation. "COP28 is deeply committed to becoming a positive platform for women, youth, and Indigenous peoples. The UAE will advocate intensively for solutions to address the needs of the most vulnerable."
Climate change and the UAE's role in COP28 form an essential component of the NEP 3.0 coursework, known as the COP28 Journey. Over the next year, participants will work on group research projects to gain a deep understanding of the impact net-zero strategies will have on the UAE and on their sectors. The COP28 journey will also examine investments in the future circular economy, both in the UAE and around the world. The NEP 3.0 cohort aims to present this body of knowledge, including strategies for the future of their sectors, at COP28.
The COP28 Journey was designed in collaboration with NEP Fellows Abdulla Al Remeithi and Omar Al Braiki; NEP is also partnering with Boston Consulting Group to offer participants guidance and support throughout the research process.
The NEP community members who took part in COP27 highlighted the announcements below to illustrate the UAE's ambitious steps toward addressing climate change and its work with the global community to drive forward collective solutions. Learn more in the links.