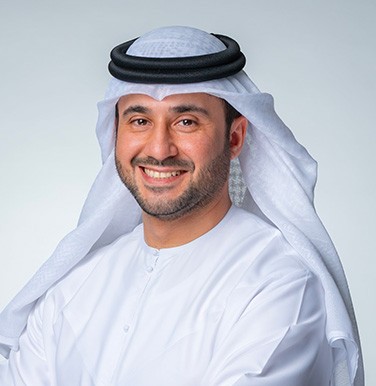 Ali Alshimmari
Energy and Economy
International Assets Manager - GCC, TAQA
Ali Alshimmari is an ambitious leader in the energy and economy sector with exceptional technical skills, commercial knowledge, and asset-management expertise. Visionary, pragmatic, and patriotic, he has played a critical role in developing the UAE's hydrogen strategy and maximizing energy investments across the Gulf region.
As International Assets Manager for the Gulf Cooperation Council (GCC) at the Abu Dhabi National Energy Company (TAQA), Alshimmari oversees the asset management strategies, policies, and programs for utility and power-generation investments in Saudi Arabia and Oman. In addition, he is a Year of Sustainability Expert, a sustainability ambassador for the UAE's Year of Sustainability team and Member of the Global Council for the Sustainable Development Goal #7. He also serves as Chairman of TAQA's Youth Council, where he empowers youth (ages 18-35) to gain knowledge and build capabilities as future leaders of the UAE's energy sector. Previously, he held roles in engineering, project management, and asset management at the National Petroleum Construction Company in Abu Dhabi.
Alshimmari envisions the UAE as a top global producer of hydrogen energy and recognizes the importance of clean fuel in achieving the country's net zero target for 2050. In support of this goal, he serves on the Ministry of Energy and Infrastructure's Hydrogen Technical Committee, which developed the National Hydrogen Strategy and a roadmap for future hydrogen production and distribution. Through the National Experts Program, Alshimmari also conducted a study, "Hydrogen as a Futuristic Energy Source," to capture the viewpoints of industrial players and regulatory authorities and develop a synchronized approach for the energy transition.
At a high level, Alshimmari is passionate about aligning sustainability efforts across sectors in the UAE—not only to enable sustainable growth and increase the country's competitive position, but to speed up global progress in the race against climate change. Driven to serve his country and contribute to society, he aspires to be a part of the team leading this transformation.
Alshimmari holds a Bachelor of Science in Electrical Engineering from the United Arab Emirates University, and he earned his Master of Business Administration with honors at Abu Dhabi University. He has completed several professional certifications in disciplines such as design thinking, negotiations, communications, politics, and finance. Experienced in leading agile teams, he is a Certified Scrum Master.