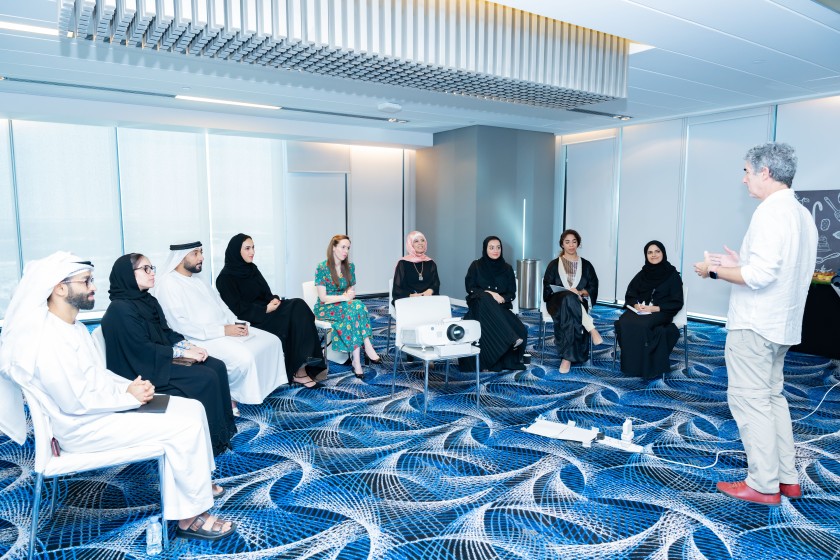 NEP Alumni learn about storytelling from Iñaki Escudero
Storytelling for the NEP Alumni Community
19 Dec 2022
As future leaders in their sectors, NEP Alumni share a common set of tasks: each must create new stories for themselves, for their sectors, for NEP, and for the UAE itself. On December 5 and 6, a small group of alumni and Fellows began a unique learning experience—a collective workshop focused on storytelling.
Led by Iñaki Escudero, the workshop immersed participants in the art and science of storytelling, from the neuroscience of a satisfying plot to the underlying structure of a memorable tale. It can be difficult to see one's own story from the inside, so Iñaki set out a series of tasks designed to unearth each participant's self-belief and life's purpose. The group bonded over their favorite attributes, the problems they see in the world, and their vision for the future.
As one participant put it, "This workshop was an introduction to what I hope will become a meaningful and enriching journey."
From this starting point, participants will embark on a six-month learning journey to refine the narrative arc of their lives as leaders, change-makers, and those who know that anything is possible when you can tell the story well.
"More than anything I'm impressed with your passion for knowledge and learning, your determination to be better and to understand how you can get there, and especially by your humanity and kindness." - Iñaki Escudero