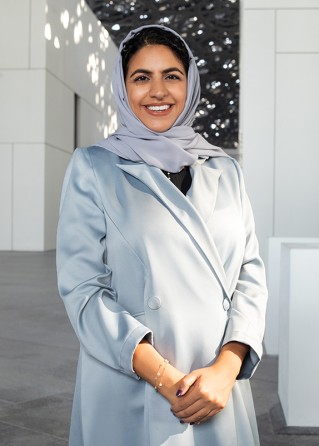 Waheeda Alhadhrami
Media and the Creative Economy
Director of the National Cultural and Creative Industries Promotion Department, Ministry of Culture and Youth
A critical thinker, passionate advocate, and gifted public speaker, Waheeda AlHadhrami is developing the UAE's cultural and creative industries by building strategic partnerships at home and abroad. She has a deep understanding of the creative community's needs, having worked closely with artists and cultural leaders throughout her career.
AlHadhrami has played an instrumental role in two foundational projects for the UAE: she developed the first 10-year national strategy for the cultural and creative industries and she implemented the first economic framework to monitor the industries' performance. Currently, she is focused on aligning efforts across the seven emirates to achieve strategic initiatives, such as improving the quality of cultural education programs and implementing policies to support creative businesses. She also represents the UAE on international platforms, including UNESCO and the G20, to promote its position in the global creative economy.
In the future, AlHadhrami hopes the UAE will prioritize the cultural and creative industries to a greater degree in its policies and budgets. She also hopes to see new policies implemented that make the UAE a more attractive place for creatives to work. On the cultural side, she believes the UAE has strong assets in its heritage and traditions that can be further leveraged to create value. Museums and heritage sites, for instance, can grow the tourism industry, create jobs, and have social impact while preserving culture.
Previously, AlHadhrami worked for Twofour54, where she worked closely with creative businesses to scout, mentor, and place talent. This experience helped her gain an in-depth understanding of industry trends and challenges faced by animators, filmmakers, artists, and other creative professionals. Armed with this knowledge and expertise, she is frequently nominated to speak at conferences, address international bodies, and represent her sector before government committees.
AlHadhrami holds a Bachelor of Science in Marketing from American University of Sharjah and a Master of Arts in Arts Management from Claremont Graduate University and Sotheby's Institute of Art.