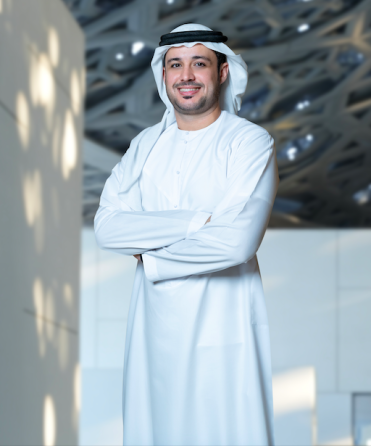 Talal Faris
Community Development and Social Services
Division Manager, Family and Community Division, Abu Dhabi Department of Community Development
A criminologist by training, Talal Faris is a diligent and strategic leader who has spearheaded initiatives to promote community safety and security in the UAE. With a diverse background in nuclear energy, countering violent extremism, and community development, he has a strong track record of developing and implementing strategies that have a positive impact on society.
At the Abu Dhabi Department of Community Development (DCD), Faris leads the creation of strategies, services, and policies that benefit some of the UAE's most vulnerable populations—including youth, the elderly, people of determination, and victims of abuse. For example, he set up a mental health helpline during the COVID-19 pandemic, supported the establishment of a new shelter for abuse victims, and helped establish the Abu Dhabi Family Care Authority. He also led a team to develop new initiatives for ex-offenders, juvenile delinquents, and ex-substance abusers to help them reintegrate into society.
Faris believes the UAE has the potential to build an ecosystem of social services that are the highest quality in the world, presenting a model for other countries to emulate. In the nearer term, he wants to ensure the nation can meet the fundamental needs of every citizen and resident. In support of these goals, he aspires to serve as a representative for the UAE in international organizations such as the United Nations.
Prior to joining the DCD, Faris was a Senior Program Associate for Hedayah, where he worked with government, academic, and business stakeholders to develop strategies and programs to counter violent extremism. At the Abu Dhabi Urban Planning Council, he focused on implementing safety and security regulations and conducted counterterrorism surveys. He began his career as an Industrial Development Officer for the Emirates Nuclear Energy Corporation, where he assessed local companies for nuclear standards.
An accomplished academic, Faris earned his Bachelor of Arts and Social Science in Criminology from Northumbria University. He also completed two master's degrees—the first in International and Civil Security from Khalifa University, and the second a Master of Philosophy in Criminology from the University of Cambridge.