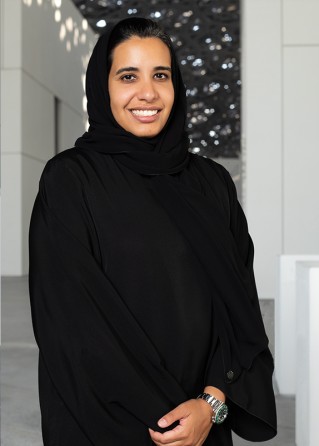 Maitha Mohamed Al Hameli
Environment and Climate Change
Manager, Marine Assessment and Conservation and Terrestrial and Marine Biodiversity, Environment Agency – Abu Dhabi
After years of studying, working in, and living beside the Persian Gulf, Maitha Al Hameli knows the sea waters like the back of her hand. For the past 14 years, she has led or participated in a wide range of conservation programs at the Environment Agency – Abu Dhabi (EAD), including environmental surveys, habitat restoration projects, marine wildlife rescue missions, and marine biodiversity assessments. A natural-born leader with diverse skills in science, business, and government, Al Hameli stands out as a change agent in the environment sector.
As the Manager of Marine Assessment and Conversation and Terrestrial and Marine Biodiversity, Al Hameli is overseeing projects such as conducting the region's first systematic dolphin survey and seagrass survey; replacing traditional survey methods with AI-powered methods; and growing a turtle-release initiative that engages the local community. She is also teaming up with scientists in Asia and the United States to protect the endangered dugong species and expand seagrass and coral restoration projects.
Seeing the UAE as a "living lab for the world," Al Hameli is cognizant that her region is more susceptible to the impacts of climate change, such as water scarcity and food insecurity. At the same time, she recognizes that efforts to combat climate change must be balanced with efforts to develop the nation's economy. To resolve this issue, she is collaborating with private-sector stakeholders to make investments that counteract damage caused by business operations; for instance, she recently requested funding to conduct a pilot study on propagating seagrass.
As a result of these and other projects at the EAD, Al Hameli and her team have made a measurable difference in the UAE. For instance, they have used drones to plant one million mangrove seeds, created one of the most resilient coral nurseries in the world, and reduced the rates of dolphin bycatch, turtle bycatch, and dugong bycatch. Al Hameli, eager to build on these successes, aspires to work more closely with government and business leaders to increase conversation efforts in the UAE.
Al Hameli holds a Bachelor of Science in Business Sciences from Zayed University and a Master of Environmental Science from the United Arab Emirates University. Along with completing graduate-level coursework in diplomacy and international affairs, she is currently pursuing a PhD in Ecology and Environmental Sciences at United Arab Emirates University.