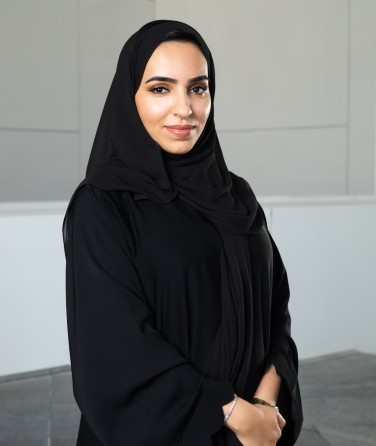 Fatima Rashid Al-Ali
Health & Well-Being
Project Manager, Mubadala Health
A leading expert in healthcare management, Fatima Rashid Al-Ali is a passionate and strongly qualified Emirati leader with deep knowledge of the UAE healthcare system and its operations. She is one of the driving forces behind a national effort to strengthen and reimagine healthcare in the UAE.
In the Project Management Office of Mubadala Health, Al-Ali is overseeing multiple projects to expand and transform the healthcare system. For instance, she is involved in a pilot project for precision medicine that uses genetic sequencing to detect the presence of cancer genes and is working on expansion projects within Abu Dhabi and regionally, including launching a new branch of Mubadala Health in Bahrain. Al-Ali cares deeply about ensuring equal access to healthcare across the seven emirates and increasing patient trust in the healthcare system.
In the UAE, Al-Ali envisions a future in which healthcare is preventative and personalized, powered by genomics and artificial intelligence to prevent illness and disease. With help from new advancements in technology, she imagines hospitals will one day have the capability to scan patients upon arrival to measure their vital signs, retrieve their medical charts, and flag genetic markers of disease. With its investments in artificial intelligence, the UAE has the potential to create one of the best healthcare systems in the world, she notes.
Previously, Al-Ali was appointed as CEO of Abu Dhabi Telemedicine Centre at age 27, making her the youngest CEO within the Mubadala Health network. In this role, she drove digital healthcare innovation and launched the first gatekeeping model for telemedicine in the UAE. Al-Ali decreased healthcare costs in the insured group by 10% and increased operational efficiencies by 40% in one year. Prior to joining the Centre, she worked in the Wooridul Spine Centre in Dubai and in the Cleveland Clinic Abu Dhabi.
Al-Ali graduated Magna Cum Laude from American University of Sharjah, earning a Bachelor of Science in Business Administration with a major in Finance. She represented the Health and Well-Being sector in the third edition of the National Experts Program, a leadership and expertise development program for UAE-based specialists who are poised to effect transformational change. Al-Ali has also completed leadership training at Medgate Telemedicine Center in Switzerland and Cleveland Clinic in the United States.