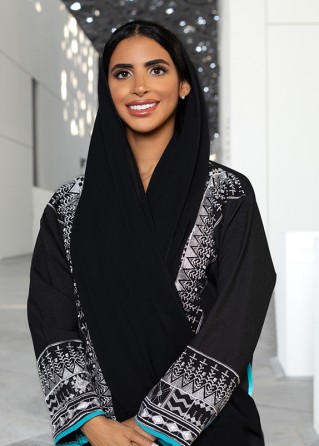 Eman Al Mughairy
Culture
Master's Student in Global Affairs and Diplomatic Leadership, Anwar Gargash Diplomatic Academy
A cultural expert and scholar, Eman Al Mughairy has a unique blend of strengths in project management, communication, strategic planning, and emotional intelligence. Over the past decade, she has explored the dynamics of culture in media production, community engagement, and public policy; today, she studies culture in the context of diplomacy.
As a graduate student at Anwar Gargash Diplomatic Academy, Al Mughairy is pursuing a master's degree in global affairs and diplomatic leadership, focusing specifically on cultural diplomacy. Through her program, she is studying ways of using culture to foster dialogue, promote understanding, and build bridges between different societies and nations.
Post-graduation, Al Mughairy aspires to serve as a strategic advisor to cultural diplomacy in the UAE, focused on building relationships between governments and organizations both locally and abroad. She is also interested in using the power of storytelling to enhance the UAE's reputation on the global stage. Cognizant of the cultural risks of artificial intelligence, she wants to find ways to leverage technology responsibly while preserving the authentic, human contributions that are essential to culture.
Al Mughairy began her career as a Production Executive in the film and TV services department at twofour54, the media zone authority. Later, she served as the Abu Dhabi Youth Hub Manager under the Federal Youth Authority, where she also led projects at the office of the Minister of State for Youth Affairs. Most recently, she was Communication Section Head in the Communication and Outreach Department of Anwar Gargash Diplomatic Academy.
Before starting her current graduate program, Al Mughairy attended Zayed University, where she earned a Bachelor of Arts in International Relations with a minor in Strategic Communication. She is also a graduate of the Future Innovators Academy in collaboration with Emirates Youth Council. She received the Silver, Gold, and Platinum awards from the Zayed University Leadership Program in 2011, 2012 and 2013, respectively.