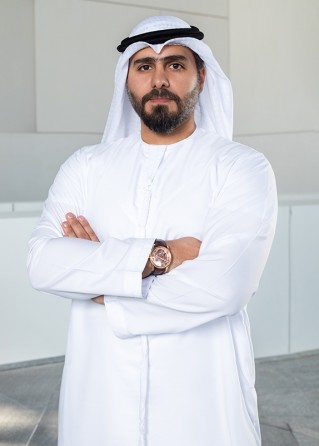 Dr. Abdulla Al Shimmari
Technology and Innovation
CEO, HCMS.ai
Innovative, entrepreneurial, and forward-thinking, Dr. Abdulla Al Shimmari is harnessing technology to transform how human capital is managed in the UAE and beyond. Using the power of data science and artificial intelligence (AI), he has developed solutions to close the global skills gap, upskill the workforce, and help organizations adapt to a rapidly changing job market.
As Founder and CEO of Human Capital Management System (HCMS.ai), Dr. Al Shimmari oversees a suite of tools that help organizations with talent recruitment, upskilling, education, succession planning, and other talent-management tasks. One of his tools, for instance, recommends an upskilling journey for professionals, while another tool helps educational institutions teach skills in accordance with job market demands. HMCS.ai was born out of Dr. Al Shimmari's PhD research, which used data science to analyze the supply and demand of workforce skills in the UAE and GCC.
Looking ahead, Dr. Al Shimmari envisions the UAE as a global hub for AI that is renowned for helping startups grow and scale. He sees the country as the future capital of technology and a top exporter of AI-powered tools. To support that future, Dr. Al Shimmari is studying the skills and tasks that AI will soon automate, and exploring how professionals can use technology like generative AI to enhance their work and pave the way for artificial general intelligence. He also aspires to grow his startup into one of the first unicorns led by a UAE national.
In addition to launching HCMS.ai, Dr. Al Shimmari is the co-founder of RestHero.io, a social media commerce platform. He is also a Board Member of the Arab Youth Research Council and HCT Industry Advisory Council. Previously, he worked for Abu Dhabi Police, where he led the R&D team in the engineering department. Currently, he is working as a Senior Director at the Inception Institute of Artificial Intelligence, a G42 company.
A highly respected academic researcher, Dr. Al Shimmari completed his Bachelor of Science in Electrical Engineering Science from Higher Colleges of Technology; a Master of Science in Electrical Engineering and Computer Science from the Massachusetts Institute of Technology and Masdar Institute of Science and Technology Cooperative Program (MIT & MICP); and a PhD in Interdisciplinary Engineering from MIT & MICP.