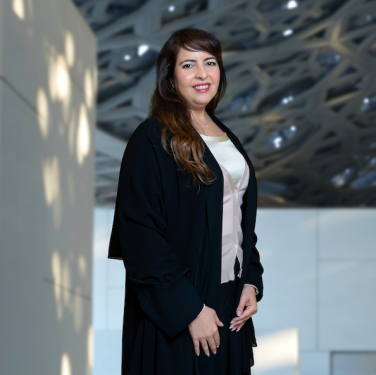 Aisha Al Matrooshi
Tourism and Hospitality
Tourism Sector Industry Development Section Head, Department of Culture and Tourism – Abu Dhabi
With her analytical skills and management expertise, Aisha Al Matrooshi is accelerating growth in the UAE's tourism and hospitality sector. For more than 12 years, she managed one of the most elite hotel brands in Dubai; today, she is focused on expanding tourism in Abu Dhabi.
Since 2019, Al Matrooshi has served as Section Head of Tourism Sector Industry Development in the Department of Culture and Tourism – Abu Dhabi. In this role, she has developed and implemented new strategies to attract global travelers to Abu Dhabi and enhance the tourism experience. For example, during the COVID-19 pandemic, she built a digital platform that enables visitors to book accommodation paired with unique travel experiences, such as museum tours or visits to cultural sites.
Al Matrooshi sees huge potential for the UAE to expand its tourism and hospitality sector, particularly in the fast-growing areas of religious tourism and medical tourism. Raising awareness about the elements that make the UAE so special (e.g., its 200+ islands) is important to realizing that vision, but so is recruiting more UAE nationals to work in the hotel industry, she notes. For her part, Al Matrooshi is currently pursuing an MBA at the École hôtelière de Lausanne with the goal of developing a new scheme for transforming the revenue management of hotels. She also hopes to work more closely with the government to develop a strategy to recruit more Emirati to hotel positions. She envisions a future in which the UAE is known for an annual event that attracts global leaders, similar to Davos' World Economic Forum. In the near term, her goal is to have all hotels in Abu Dhabi booked to capacity during peak travel seasons.
Prior to her current role, Al Matrooshi worked for the Jumeirah Group and Jumeirah Hotels & Resorts. Most recently, she served as the Group Operations Manager in Dubai.
Al Matrooshi holds a bachelor's degree in Marketing and Management from American University in Dubai.