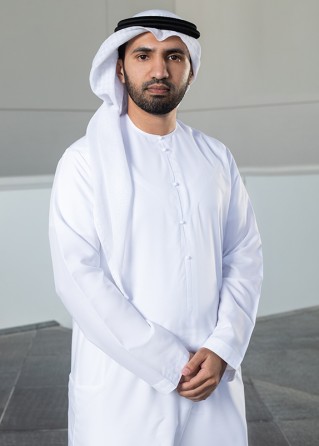 Abdulla Al Haidan
Mobility and Logistics
Group Senior Manager, Group Planning and Project Management, DP World
An empathetic professional with a steadfast work ethic, Abdulla Al Haidan manages some of the most innovative infrastructure projects and logistics solutions in the world. By applying his expertise in mobility and logistics, he aspires to support the wellbeing of people at home and abroad.
As Senior Project Manager for DP World, Al Haidan oversees the development of a wide range of mobility and logistics projects in the UAE and overseas. For example, he managed the construction of the world's first automated container storage facility in Dubai, a project that revolutionized the port industry by automating the storage and collection of shipping containers. He also oversaw the design of expansion of DP World Luanda Port in Angola to include a new gate complex, truck parking, administrative buildings, and other facilities. These improvements were critical to turning the port into a trade hub that could better support the developing countries surrounding it—an objective that Al Haidan is driven to achieve, as he cares deeply about increasing access to critical goods in disadvantaged parts of the world.
Looking ahead, Al Haidan hopes to see a greater exchange of knowledge and expertise between the UAE and the rest of the world. He hopes to take part in this effort, promoting the UAE's position as a trusted partner and tolerant country accepting of different ideologies.
Al Haidan began his career as a Project Engineer at DP World, where he helped reinstate the Mina Rashid Quay 2 and 3 in Dubai. After advancing to the position of Senior Project Engineer, he contributed to the upgrade of Road 811 and the Container Terminal 4 bridges and roads in Jebel Ali. Later, he joined the Board of Directors of the Federal Transport Authority, Land & Maritime, where he helped review strategic projects related to new laws and regulations for land and maritime in the UAE.
Al Haidan completed his Bachelor of Applied Science in Civil Engineering from the Higher Colleges of Technology, graduating with honors. He also earned his Master's Degree in Engineering Management from the University of Wollongong Dubai. He has completed several leadership programs, including Sheikh Mohammed bin Zayed Scholars Program at NYUAD, UAE Government's Leaders Program, and the National Experts Program.