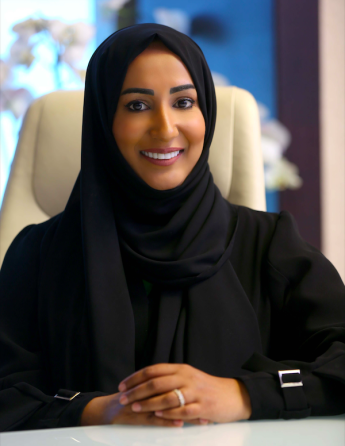 H.E. Dr. Shaikha Salem Al Dhaheri
Environment and Climate Change
Secretary General, Environment Agency – Abu Dhabi
Dr. Shaikha Salem Al Dhaheri is the Secretary General of the Environment Agency - Abu Dhabi (EAD), the largest environmental regulator in the Middle East, responsible for protecting and preserving our natural resources and promoting sustainable development in the emirate.
Dr. Al Dhaheri holds a PhD degree in Wildlife Conservation and Protection from the University of Aberdeen in the United Kingdom, which makes her the first Emirati woman to earn the accolade. She also holds two Masters degrees: in Environmental Science from UAE University (UAEU) in Al Ain, and another in Biological Conservation From the University of Kent in the United Kingdom. She earned her Bachelor's degree in Environmental Species from UAEU.
Dr. Al Dhaheri began her career at EAD as a Researcher Assistant in the Agency's Terrestrial Environment Research in 2000, and was later appointed as Executive Director of
the Terrestrial and Marine Biodiversity Sector in 2012. In this role, she spearheaded initiatives to promote a comprehensive understanding of the state of biodiversity in Abu Dhabi and ensured that the sector's goals were in line with Abu Dhabi Environment Vision 2030 and the Abu Dhabi Plan, among other national and emirate-level directives. She has played a defining role in establishing a clear vision for the sector to facilitate a sustainable environment and future for Abu Dhabi.
Dr. Al Dhaheri has been credited for introducing innovative ideas and solutions to the field of environmental protection and species conservation and has overseen the implementation of numerous programs on biodiversity, protected areas, threatened species and fisheries, including national and global species reintroduction programs.
Dr. Al Dhaheri serves on several committees and councils in the UAE. She is a board member of Abu Dhabi Sewerage Services Company, sits on the Board of Directors Al Ain Wildlife Park and Resort, Emirates Nature-WWF, the Abu Dhabi Agriculture and Food Safety Authority, the Advanced Technology Research Council and the International Fund for Houbara Conservation.
Dr. Al Dhaheri is also an active member of many international organizations. In 2021, she was re-elected as a Regional Councillor to the International Union for the Conservation of Nature (IUCN) in Western Asia for the second time. She is also the Chair of the IUCN UAE National Committee and Member of Advisory Board of the United Nations Decade on Ecosystem Restoration
Dr. Al Dhaheri won the Abu Dhabi Award for Excellence in Government Performance in 2015 and also the Al Dana Excellence Award in 2014, She is also recipient of the Rashid Bin Maktoum Awards for Scientific Excellence for PhD and Masters degrees in 2010 and 2005 respectively.
Dr. Al Dhaheri also a mother of 5 boys.