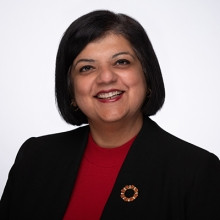 Professor Sujata Madan
Professor of Practice in Finance, McGill University
INNOVATION & STRATEGIC EXPERTISE
Professor Sujata Madan joined McGill University's Faculty of Management in 2005. She has served as the Director of MBA Strategic Initiatives, as well as Academic Director of the MBA and PMBA Programs. Currently, Madan is the Co-Academic Director of the International Masters Program for Managers.
She is the recipient of the 2021 Academy of Finance Distinguished Teaching Award and was awarded the prestigious 3M National Teaching Fellowship in 2020. At McGill, she has received the Principal's Prize for Excellence in Teaching, and is a multiple winner of the Distinguished Teaching Award. Madan was honored by McGilll alumni who established and crowdfunded the Sujata Madan Award to be awarded in perpetuity to recognize and reward kindness in the MBA Program.
In her former role as a Consultant with the Boston Consulting Group, she reviewed business portfolios, diagnosed HR processes, and developed strategies and business models for leading global organizations. Prior to this, she supervised the central operations team for corporate and individual accounts at Citibank, Global Consumer Bank Division, India.
Madan holds a B.Sc. in Electrical Engineering from the Massachusetts Institute of Technology, USA and an MBA from the Indian Institute of Management – Ahmedabad, India.