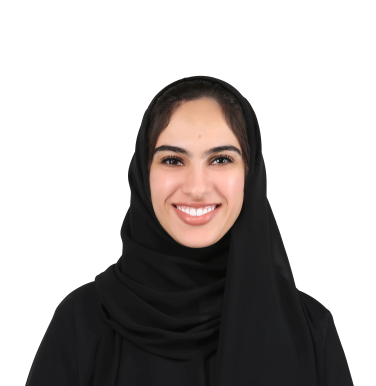 Meera Al Mheiri
Policy Making
Senior Inspection Engineer, Federal Authority for Nuclear Regulation (FANR)
An esteemed expert in policymaking, regulation, and government affairs, Meera Al Mheiri is highly adept at designing frameworks that increase the efficiency of government offices and processes. Trained in nuclear engineering, policymaking, and international affairs, she has a strong drive to serve the UAE and play an instrumental role in its bold ambitions.
Immediately after completing her bachelor's degree, Al Mheiri became the first Emirati female as a Nuclear Inspector to join the Federal Authority for Nuclear Regulation (FANR), the regulatory body for the UAE's nuclear sector. Now in her eighth year with FANR, Al Mheiri is part of the team responsible for ensuring the Barakah Nuclear Power Plant complies with all laws and regulations, upholding the safety and security of the nation.
In 2020, she was hand-selected for the Supreme Council for Motherhood & Childhood—becoming one of the youngest people to serve as a board member in the UAE government—and was also named a fellow of the National Experts Program (NEP). Through the NEP, she completed a capstone project that reimagined the policymaking process in the UAE to make it more agile, resilient, and efficient for the modern world.
Known for her big-picture thinking, Al Mheiri has designed multiple governing frameworks that will benefit the UAE for the next 50 years and beyond. She aspires to see the country continue to rise in global rankings for the benefit of future generations. With wide-ranging interests in diplomacy, counterterrorism, coexistence, espionage, and nuclear engineering, Al Mheiri plans to dedicate her talents to government work. "I follow what my heart wants to do, and then put my mind to it," she says, a personal value that has guided her career thus far. Al Mheiri has paved the way for other young leaders to follow in her footsteps, having served on the Emirates Youth Council, the advisory arm for the UAE government with regards to youth policies and strategies, as well as the UAE Youth Ambassador in Germany.
Al Mheiri earned her Bachelor of Science in Mechanical Engineering, with a minor in Nuclear Engineering, at the Khalifa University of Science, Technology and Research, graduating with excellence and highest honors. She completed her Master of Arts in International Affairs (Espionage and Surveillance) at King's College London. She also holds an Executive Diploma in Policymaking from the McGill Executive Institute and studied nuclear power technology, management, and policies at the Gulf Nuclear Energy Infrastructure Institute, an initiative between the UAE and USA.